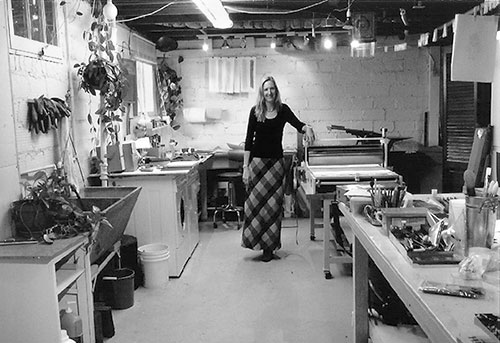 BIOGRAPHY
Susan Lowdermilk is a book artist and printmaker working in traditional processes such as woodcut, wood engraving and intaglio etching as well as digital media. Her artist's books involve movable parts, pop-ups and LED circuitry. She is a professor at Lane Community College in Eugene, Oregon, teaching courses in printmaking, artist books and graphic design. She also teaches artist book and printmaking workshops. Her work has been collected by over 60 public institutions including, the Getty Museum, the Library of Congress and the New York Public Library. Her artist's books are represented in galleries throughout the United States. She earned her Master's of Fine Art from the University of Oregon, and her Bachelor's of Fine Art from Colorado State University in Fort Collins, Colorado.
STATEMENT
Our experience of reading books is increasingly changing from being physical and tactile to digital and virtual. My artist books are hand printed and hand constructed and feature low-tech movable elements that are meant to be technologically transparent. I view my artist books as a counterpart to the flood of mass-produced, digital imagery that we contend with constantly.
I am interested in the dualities that complicate our human condition—chance versus strategy, faith versus reason, serendipity versus design, peace versus war, winning versus losing and our relationship to and separation from nature.